EO:Ĉefpaĝo
From NovaRoma
NOVA ROMA
Dediĉata por restarigi religion klasikan Roman, kulturon, kaj virton
 Home| Latíné | Deutsch | Esperanto | Español | Français | Italiano | Magyar | Português | Română | Русский | English
Hodié a.d. XV Kal. Ian. ‡ III post M. Pompeium Sex. Lucilium cos. ‡ MMDCCLXXI a.u.c. est. "H"
FOTOGRAFI DE LA TAGO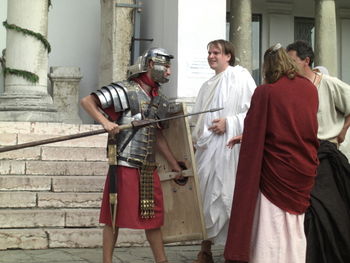 Good security at
XX Floralia Aquinci
. Performance of a Roman trial with
Cn. Lentulus
in the role of the defence, protecting the culprit (in black
toga
) with his body, when, after pronouncing the verdict, the guard is coming for him.