Media Services (Nova Roma)
From NovaRoma

This page is maintained under authority of the
Aediles Curules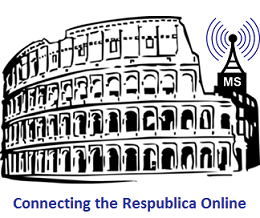 Welcome to the Media Services Department of the Office of the Curule Aediles!
Browse this page to locate various media platforms for Nova Roma-related communications projects. Have a Nova Roma-related media project other personal project you believe other citizens would be interested in? Would you like to list here? Just send us the web address of your site, and we will link it in for you! If you know how to add your own, feel free to do so.
CONTACT US
Contact the Office of the Curule Aediles for more information or to submit your project site today:
Curule Aedile: L. Vitellius Triarius (lvtriarius AT yahoo DOT com) | Link
CA Scriba: L. Ulpius Atellus (koalmyner AT gmail DOT com) | Link
CA Scriba: Ti. Cassius Atellus (ti DOT cassius Dot atellus AT gmail DOT com) | Link

Pinterest Images Boards
Personal Boards

YouTube Videography About Nova Roma

Twitter Conversations for Roman Enthusiasts
Personal Profiles
None Yet!

FaceBook for Nova Romans
Personal Pages
None Yet!

Book Clubs & Book Blogs

Online Newsletters and Non-Book Blogs
Yahoo! Groups
Non-NR
Explorator - Bringing you the best of the world of archaeology/ancient history every week
NR
Other Venues
From time to time, sites under this heading may be moved up the page under a specific brand venue heading. If your social media/other project venue is not listed above, then your site should go under this heading. If your site was previously listed, and you do not see your site here anymore, look up the page. It has probably been moved to a higher state of media being!
RogerSpace - by Roger Twitchell - Commentarii on Marcus Aurelius, Stoicism, Classical Architecture, and other mysteries of the universe!
Mons Aventinus - by L. Vitellius Triarius - The unofficial non-governmental wiki project for Nova Romans and others, who want their own free Roman wiki personal page for their self or group. Pick a property in online Roma and move in or link in your website!