Template:LanguageBar
From NovaRoma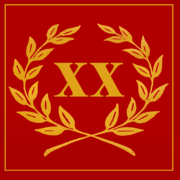 Nova Roma has completed its 20th year on the Kalends of March!
PARTICIPATE IN THE LUDI NOVI ROMANI
CELEBRATING THE XXth ANNIVERSARY OF THE FOUNDING OF NOVA ROMA
These Ludi Novi Romani are the games celebrating the 20th Anniversary of the founding of Nova Roma through March 1-15.
Nova Roma was founded 20 years ago, March 1, 1998.
 Home| [[LA:|Latíné]] | [[DE:|Deutsch]] | [[EO:|Esperanto]] | [[ES:|Español]] | [[FR:|Français]] | [[IT:|Italiano]] | [[HU:|Magyar]] | [[PT:|Português]] | [[RO:|Română]] | [[RU:|Русский]] | [[|English]]
Provides links between different language versions of an article.
Usage
Do not use the "PAGENAME" magic word with this template. Use the actual page name. This prevents the linking system from breaking when pages are moved.
Display samples:
 Home| Latíné | Deutsch | Esperanto | Español | Français | Italiano | Magyar | Português | Română | Русский | English
 Home| Latíné? | Deutsch? | Esperanto? | Español? | Français? | Italiano? | Magyar? | Português? | Română? | Русский? | English