Ludi Novi Romani/MMDCCLXXI/Certamen Historicum Antiquum
From NovaRoma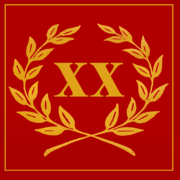 Nova Roma has completed its 20th year on the Kalends of March!
SEE THE OTHER PROGRAMS OF THE LUDI NOVI ROMANI
CELEBRATING THE XXth ANNIVERSARY OF THE FOUNDING OF NOVA ROMA
These Ludi Novi Romani are the games celebrating the 20th Anniversary of the founding of Nova Roma through March 1-15.
Nova Roma was founded 20 years ago, March 1, 1998.
Certamen Historicum Antiquum, TURN II
Participate and a WIN a PRIZE! Honor our 20th Anniversary by participating in the NOVA ROMAN GAMES, and test your knowledge of Roman history! There will be THREE TURNS in this quiz, and we announce now TURN 1. The final result and the prize will be calculated from the results of all 3 turns.
RULES
1) Go to the page of the Certamen Historicum Antiquum:
https://www.onlinequizcreator.com/certamen-historicum-antiquum-pars-ii/quiz-363070
2) Create and account with your full Nova Roman name (or if you aren't a NR citizen, with your native name)
3) Send your result ***BEFORE March 13***, in Facebook message, to:
https://www.facebook.com/profile.php?id=100023112638442
The champion will receive a PRIZE (details later) and will earn the title of "Princeps Historiae Antiquae" of the Ludi Novi Romani of the 20th Anniversary of Nova Roma.
Long live our 20 years old community!