NovaRoma:Log in
From NovaRoma
Latíné | Deutsch | Español | Français | Italiano | Magyar | Português | Româna | English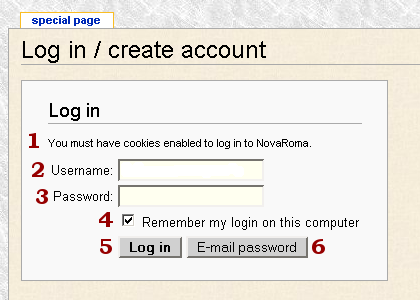 If you follow these directions and have trouble logging in, please contact one of the
WikiMagisters
.
1: Cookies
This is a browser setting. If you already use a service such as Yahoo! Mail, your browser is probably already set up correctly. If your browser does not accept the cookies set on login, your login will expire almost immediately. If this happens, you should check the following:
Make sure that your browser accepts cookies.
Check your computer system time. Cookies use the system time and may not work correctly if your computer clock is incorrect by a large margin.
You may have to register the domain "www.novaroma.org" with any security programs or control panels that your system may be using.
2: Username
Your Username should be the full Roman name that you used when you created your wiki editor account.
3: Password
This is the password that is set in your "Preferences" page. If you have not changed it, it is still the original password that you were given when you created your account. If you have forgotten your password, see "6: E-mail password" below.
4: Remember my login
If you check the "Remember my login on this computer" box, you can stay signed in to the Nova Roma wiki on this computer until you sign out. The "Remember my login on this computer" checkbox applies to this computer only. If you're using a public computer, we recommend that you do not check the box. If you do not check this box, you will be logged out automatically after a time.
5: Log in
After entering your Username and password, press this button to log in.
6: E-mail password
If you have forgotten your password, this will automatically send you a temporary password. Log in with the temporary password and then change your password in your Preferences. If this does not work, please see Pasword Help.