Pompeii
From NovaRoma
 Home| Latíné | Deutsch | Español | Français | Italiano | Magyar | Português | Română | Русский | English
A city on the Bay of Naples, destroyed by an eruption of Mt. Vesuvius in 79 CE.
The eruption of 79 is described in detail by Pliny the Younger in a letter to the historian Tacitus.
Posters
Temple of Jove in Pompeii
---
From Villa of the Mysteries
---
The port was used by Greek and Phoenician sailors.
Foundation by Oscans in the 7th or 6th century BCE.
Captured by Etruscans
Captured by Cumae
Captured by Samnites in the 5th century BCE.
Roman colony Colonia Cornelia Veneria Pompeianorum.
Earthquake of February 62 CE.
Destruction in 79 CE.
Excavated Pompeii
Private Homes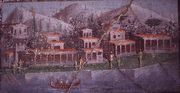 Two houses belonging to Lucretii have been identified. The house of M.
Lucretius
was found in Regio IX
[1]
and that of M. Lucretius Fronto in Regio V [2]

Marcus Lucretius Fronto's house in Pompeii is notable for the quantity and quality of the art found therein. [3]

Graffiti
The following graffito was found in Pompeii: "Twenty pairs of gladiators furnished by Decimus Lucretius Satrius Valens perpetual priest of Nero, son of the Emperor, and ten pairs of gladiators furnished by Decimus Lucretius Valens his son, will fight at Pompeii April 8, 9, 10, 11, and 12. There will be a big hunt and awnings. Aemilius Celer wrote this by the light of the moon." [4]
References