Provincia Nova Hispania (Nova Roma)
From NovaRoma
 Home| Latíné | Deutsch | Español | Français | Italiano | Magyar | Português | Română | Русский | English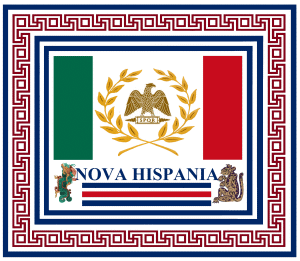 Provincia Nova Hispania
---
Provincia Nova Hispania was formerly called Provincia Mexico. It has been expanded and renamed P. Memmio K. Buteone (II) cos. ‡ MMDCCLXIII a.u.c.. Nova Hispania comprises the modern territories of United Mexican States, Belize, Republics of Guatemala, Honduras, El Salvador, Nicaragua, Costa Rica and Panama.
Cn. Cornelius Lentulus, the temporary quaestor pro praetore (governor) of Provincia Nova Hispania has been chosen by the senate, due to his successful work in revitalizing other inactive subdivisions of Nova Roma, and has been given the task to reorganize Nova Hispania, and to give it back to local leaders as soon as possible. His title quaestor pro praetore indicates his temporary governorship, because he was the quaestor of the previous proconsul of Provincia Nova Hispania who has unfortunately passed away, and quaestor Cn. Lentulus is nos standing in for the previous governor by the will of the senate until a permanent successor is found.
There is an active Nova Roman community in Costa Rica within Provincia Nova Hispania, called Cultus Deorum - Costa Rica, founded by C. Claudius Braulio, focusing on Roman religion. The Spanish speaking discussion group of the Costa Rican community of Nova Roma is this:
Tabularium
Edicta
Edicta Cn. Lentuli ducis et legati pro praetore et proquaestoris pro praetore variarum provinciarum et praefecti Italiae de apparitoribus
Edicta cn. lentuli ducis et legati pro praetore et proquaestoris pro praetore variarum provinciarum et praefecti italiae de apparitoribus
In these edicts joined up in the form of one edict, issued regarding all provinces under my imperium, I hereby assign the evaluation "EXCELLENT" to all of my apparitores in all of the provinces within my imperium, with the exception of M. Cassius Maro, who shall receive UNSATISFACTORY.
Datum pridie Kal. Ian. Sex. Lucilio II A. Tullia II coss. anno XXV a.N.R.c. (2775/2022)
Cn. Cornelius Lentulus, imperator
PRAEFECTUS ITALIAE ET DUX DIOECESIS EUROPAE C. E. G.
LEGATUS PRO PRAETORE PANNONIAE, DACIAE, LACUUM MAGNORUM
PROQUAESTOR PRO PRAETORE BRASILIAE, NOVAE HISPANIAE, TRANSMISSISSIPPIANAE
Edictum legati pro praetore daciae de praemio k. Quirinii dasii ludis appollinaribus sex. Lucilio a. Tullia coss.

From the occasion of the Ludi Apollinares, authorized by the lex Arria, as legatus pro praetore of Nova Hispania, I am awarding the following citizen the Nova Hispanian Governor's Award:
GOVERNOR'S AWARDS FOR FOUNDING AN ACTIVE COMMUNITY IN NOVA HISPANIA
M'. Lucretius Braulio receives the GOVERNOR'S AWARD FOR A NOVA ROMAN ACHIEVEMENT for his pious and dedicated activity within Nova Hispania, Costa Rica, and for founding the Cultus Deorum "Costa Rica" and "Tribus Opalina" communities which promote Roman culture and religion in the province, and which developed a productive international partnership with various Roman religion communities all over the world. The GOVERNOR'S AWARD FOR A NOVA ROMAN ACHIEVEMENT distinguishes M'. Lucretius Braulio as an example to follow, and thanks him for his valuable work in the organization of the Provincia Nova Hispania for the benefit of Nova Roma and the world of Roman reconstructionism.

Datum ludis Apollinaribus a.d. XIV Kal. Sextiles Sex. Lucilio (II) A. Tullia (II) coss. anno XXV ANRC et 2775 AUC.

Signed:
Cn. Cornelius Lentulus
QUAESTOR PRO PRAETORE
PROVINCIA NOVA HISPANIA
Archive
Our mailing list of the former Provincia Mexico was this (now defunct):