Online resources for Latin
From NovaRoma
 Home| Latíné | Deutsch | Español | Français | Italiano | Magyar | Português | Română | Русский | English
For physical texts, see
Reading list for lingua Latina
.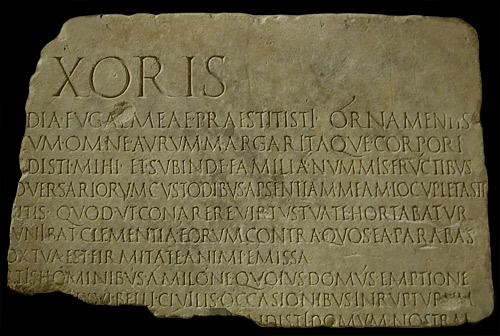 Learning Communities
Longum iter est per praecepta, breve et efficax per exempla (Seneca)
Textkit is a collection of texts, resources, services and tutorials for both Latin and Greek. Textkit is the Internet's largest provider of free and fully downloadable Greek and Latin grammars and readers. There are also many other areas of Textkit which can help you learn Greek and Latin. There is a Forum where you can meet and learn Greek and Latin with other learners. There are study groups where you can move through a textbook at a set schedule with others. With a newsletter subscription you can download a collection of Greek and Latin answer keys. Textkit Vocabulary lets you can create entirely free online vocabulary courses complete with quizzes.
The LatinStudy List is an open mailing list dedicated to the study of Latin, including Classical, Medieval, and Neo-Latin authors. Both beginners and experienced Latinists will find something of interest here. It is shared by multiple study groups. There are typically several levels of beginners' groups as well as advanced groups translating passages from, say, Caesar or Vergil, and some composition groups reviewing grammar. A coordinator sets the group's agenda, then collects and collates assignments. These collations, or side-by-side listings of each group member's answers or translations, are posted directly to the list for discussion. Most questions are answered by the other list members, not necessarily those in your study group. This mix of experience levels, where people switch between the roles of student and instructor, makes the list a particularly effective learning environment and contributes to a sense of community.
The Cambridge School Classics Project is home of the world-renowned Cambridge Latin Course, hundreds of free teaching and learning resources, teacher support for Latin in UK schools, Latin online activities, myths and performance storytelling, the Electronic Pocket Oxford Latin Dictionary, and much more!
Schola is the on line social network for listeners of the Latinum podcast (see below) where Latin only is permitted ("Qvidqvid igitur aliter qvam latīnē compositum dēlēbitur") and beginners need not fear to be lectured over errors ("Scripta autem aliēna nōlīte corrigere, nisi auctor auxilium petit").
Tutorials
A tutorial that is good for beginners or as an easy refresher.
A well-organized and comprehensive tutorial designed along modern lines. Authentic texts are introduced immediately. From The Linguistics Research Center at the the University of Texas at Austin.
Although it is about medieval Latin, you should try it as a preparatory for your Latin studies because it's one of the best Latin tutorials available online - quick, effective, understandable: like a very good teacher.
Nova Roma's own brief introduction for absolute beginners not only shows how to frame messages with Latin greetings but also gently introduces some basic grammar principles.
A Nova Roman Latin phrasebook with some essential expressions.
Our introduction into elementary Latin grammar with many examples and in a practical approach.
Interactive sites
From The Open University "If you are learning Latin word endings, this site is for you! You can quiz yourself on noun, verb and adjective endings. The words you will meet are key vocabulary items which feature in most beginner's courses." Be sure to set your preferences (look in the menu).
"...an online Latin dictionary (a dictionary of the Latin Language) and Latin grammar tool based on An Elementary Latin Dictionary (by Charlton T. Lewis). This online dictionary is different from any other you've ever used. It has been built from the ground up using AJAX technology to allow the fastest, most efficient and most useful user interface. Oh, and it includes macrons!"
Courses
See: Academia Thules
Materials
Allen and Greenough, New Latin Grammar for Schools and Colleges:
Benjamin Leonard D'Ooge, Latin for Beginners. A beginner's text of the old style, in several formats. The HTML version is in several pieces. [1]
Dictionaries
Podcasts
Nova Roma's own news broadcast. English and Latin.
Learn Latin through this podcast. The website has very complete resources. The lessons make use of the Adler text, above. Latin is spoken in the Restored Classical Pronunciation.
Read and listen to Latin poetry on their blog, or subscribe to the RSS feed.
Mailing Lists
Grex Latine Loquentium, the greatest e-mail list for living Latin, where Latin is the only language allowed, and one can read the best Latin speakers the world over, and exchange messages with them.
Nuntii Latini, current news in Latin, that can be read or even directly listened to. A new podcast feed is now available.
Ephemeris, on-line news, completely written in Latin and including numerous sections.
Software
Additional languages
Resources for languages other than English that do not (yet) have a namespace here.
Estonian 

http://www.ut.ee/klassik/dict/index_lat.html Latin/Estonian dictionary.

Croatian 

http://www.eudict.com/index.php EUdict (above) has a Latin/Croatian dictionary.
Notae
↑ 1.1 1.2 1.3 Some Project Gutenberg texts are available in "Plucker" format. Plucker is a free text reader that works on PalmOS PDAs.