ES:Macellum (Nova Roma)
From NovaRoma
 Home| Latíné | Deutsch | Español | Français | Italiano | Magyar | Português | Română | Русский | English

Esta página se mantiene bajo autoridad de los
Aediles Curules
El Macellum es el mercado de Nova Roma.
Ordo Equester
La Ordo Equester (orden ecuestre) es la clase emprendedora de Nova Roma. Cualquier ciudadano que desee vender mercancías o servicios que esten relacionados con la antigua Roma o con Nova Roma puede solicitar a los censores su ingreso en la orden ecuestre. Se espera que los ecuestres contribuyan con una porción de la renta que deriva de tales ventas al erario novorromano. También hay espacio web gratuito disponible para los miembros de la clase ecuestre.
Nova Roma Official Calendar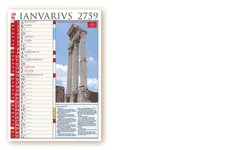 EL Calendario oficial de Nova Roma para 2759 de Caius Curius Saturninus. Un calendario de pared a todo color en tamaño DIN A4 con las fechas romanas y modernas para el año 2759 AUC (2006), con fotos de la Ciudada Eterna ¡Pide el tuyo hoy!
---
Tribune's Post
Maps, pictures and diagrams of the Roman Empire by Marcus Minucius Audens, on real Egyptian papyrus in color. Please write for catalog by mail to TribunesPost@Webtv.net.
---
Imperium Ancient Arts

Own a piece of history! Genuine artifacts of Rome and other ancient cultures, researched and authenticated by Marcus Cassius Iulianus. Enter Imperium Ancient Arts now.
---
Esoterix Software

Small business dedicated to providing top quality software to students of esoterica, classical languages, and world religions by Gaius Cordius Symmachus. Enter Esoterix Software now.
---
Harpax

Created by Gaius Vipsanius Agrippa to offer Nova Romans [as well as barbarians :)] quality licensed products and clothing. Harpax is also an authorized distributor of the new Nova Roma Sestertius Enter Harpax now.
---
Domus Lucretia
A few low-cost items with a Roman and Pagan-friendly theme by M. Lucretius Agricola. Our featured product is the Roman calendar weekly planner. This is a CafePress shop, so there is a "30 day full refund" policy. Enter Domus Lucretia now.
---
Afiliados
Los afiliados tienen acordado ofrecer precios especiales a los compradores de Nova Roma, o revertir volcar una porción de sus beneficios a favor de Nova Roma.
Amazon Books
Al hacer click en un ISBN cualquiera de este wiki le enlazará a una página con las fuentes del libro. Si usted hace click en un enlace de Amazon y compra el libro, una porción del precio de compra será devuelto al erario de Nova Roma.
Usted puede también buscar para libros de ISBN.
Sacred Source
Sacred Source ofrece las estatuas, las placas, los libros, CDs y más.
Mercancías Del Estado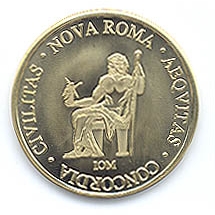 El estado produce monedas banderas.
Vea También