Marcus Octavius Corvus (Nova Roma)
From NovaRoma
 Home| Latíné | Deutsch | Español | Français | Italiano | Magyar | Português | Română | Русский | English
 Wiki: User: Talk - Contributions to this site 
 The only official record is in the Album Civium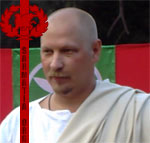 Marcus Octavius Corvus
Album Civium

Marcus Octavius Corvus with all his family has left NR Inc. Since he was rejected his right to write to NR Inc. Main List he posts his resignation letter here:
'Salvete omnes,
after resignation from all positions in NR Inc I yet took some time to find the reason to stay in NR Inc as an average citizen, but I can't find any. Things have changed and NR Inc is no more New Rome that I joined in 2007. I, M. Octavius Corvus, and all my family: Appia Flavia Gemella, Gnaeus Octavius, Titus Octavius and Marcus Octavius Minor we renounce our membership in NR Inc and are leaving for ResPublica Romana to continue building the New Rome there. Censores, please, make a note in all our accounts in AC.
Valete,
CORVVS'
Other Posts
Interpreter - official Russian interpreter.
Provincial Posts