Oppius Fabius Montanus (Nova Roma)
From NovaRoma
(Difference between revisions)
(add scribae)

Line 11:
Line 11:
 

:{{2007}}

 

:{{2007}}

 

*[[Scriba (Nova Roma)|Scriba]]  

 

*[[Scriba (Nova Roma)|Scriba]]  

−

:{{2006}} to Aedilis Curulis T.Iulius Sabinus

+

:{{2006}} to T. Iulius Sabinus

 
+
 
 
 

==Provincial Posts==

 

==Provincial Posts==
---
Revision as of 20:58, 23 January 2008
 Home| Latíné | Deutsch | Español | Français | Italiano | Magyar | Português | Română | Русский | English
 Wiki: User: Talk - Contributions to this site 
 The only official record is in the Album Civium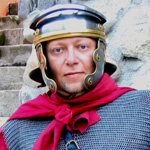 Oppius Fabius Montanus
Album Civium

Oppius Fabius Montanus lives in Oppidum Bucurestium. He is profesional webmaster, webdesigner and webdeveloper.
Other Posts
Legatus Internis Rebus Provincia Dacia
C. Buteone Po. Minucia cos. ‡ MMDCCLIX a.u.c. to aedilis curulis T. Iulius Sabinus
M. Moravio T. Iulio cos. ‡ MMDCCLXI a.u.c. to aedilis curulis P. Memmius Albucius
Provincial Posts
Dacia Officina Investigationis : Caput Officina.
Dacia Officina Retiari : Scriba.
from Fr. Apulo C. Laenate cos. ‡ MMDCCLVIII a.u.c.