Titus Iulius Sabinus (Nova Roma)
From NovaRoma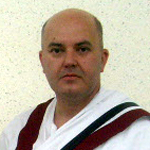 Titus Iulius Sabinus
is the current Governor of Provincia Dacia and Caput Trium Daciarum.
He was born in Castrum Rusidava an ancient roman fortress from the Limes Alutanus. His interests are all roman and nova roman things, from roman religion, arts to reenactment and politics. Iulius Sabinus curently live in Bucharest and is business owner. He is the paterfamilias of the domus and familia Iulius Sabinus composed by his wife, Aula Arria Carina, and his son, Titus Iulius Sabinus Crassus.
Other Posts
Provincial Posts
Dacia Officina Civium Novum : Caput Officina.
Dacia Officina Retiari : Caput Officina.