Template:MainPageBanner
From NovaRoma
(Difference between revisions)
(corr)

Line 1:
Line 1:
 

<onlyinclude><p style="color:#600000; font-family:Times, Serif; font-weight:bold; text-align:center"><span style="font-size:400%; line-height:100%">NOVA ROMA</span><br/><span style="font-size:125%; line-height:100%">''{{{subtitle|Dedicated to the restoration of classical Roman religion, culture and virtues}}}''</span></p>{{LanguageBar|Main Page}}<p style="text-align:center;width:100%;clear:both">'''Hodié {{Hodie}} est. "{{TodayLetter}}"'''</p>

 

<onlyinclude><p style="color:#600000; font-family:Times, Serif; font-weight:bold; text-align:center"><span style="font-size:400%; line-height:100%">NOVA ROMA</span><br/><span style="font-size:125%; line-height:100%">''{{{subtitle|Dedicated to the restoration of classical Roman religion, culture and virtues}}}''</span></p>{{LanguageBar|Main Page}}<p style="text-align:center;width:100%;clear:both">'''Hodié {{Hodie}} est. "{{TodayLetter}}"'''</p>

−

<div style="background-color:#ffffff; border:thick solid #600000; border-width:10px; padding:0.5em"><p style="color:#600000; font-family:Times, Serif; font-weight:bold; text-align:center"><span style="font-size:400%; line-height:1%">[[File:In_Memoriam_Ti_Galeri_Paulini.JPG|250px]]<br><br><br>[[Ludi Galerii|LUDI GALERII]]</span><br><br><span style="font-size:120%; color:#000000">[[In memory of Ti. Galerius Paulinus|'''Ti. Galerius Paulinus''']], censorial and consular senator of Nova Roma, has passed away currently holding the office of tribunus plebis and proconsul.<br><br>He lived 57 years.<br><br>''He will live in our memories forever!''</span><br><br><span style="font-size:180%; line-height:99%">PARTICIPATE IN THE [[Ludi Galerii|GALERIAN GAMES]] IN MEMORY OF THE RECENTLY DECEASED TI. GALERIUS PAULINUS</span></p>

+

<div style="background-color:#ffffff; border:thick solid #600000; border-width:10px; padding:0.5em"><p style="color:#600000; font-family:Times, Serif; font-weight:bold; text-align:center"><span style="font-size:400%; line-height:1%">[[File:In_Memoriam_Ti_Galeri_Paulini.JPG|250px]]<br><br><br>[[Ludi Galerii|LUDI GALERII]]</span><br><br><span style="font-size:120%; color:#000000">[[In memory of Ti. Galerius Paulinus|'''Ti. Galerius Paulinus''']], censorial and consular senator of Nova Roma, has passed away currently holding the office of tribunus plebis and proconsul.<br><br>He lived 57 years.<br><br>''He will live in our memories forever!''</span><br><br></p>

 

</div>

 

</div>

−

 
 

<!--<div style="background-color:#ffff00; border:thick solid #cc0000; padding:0.5em">

 

<!--<div style="background-color:#ffff00; border:thick solid #cc0000; padding:0.5em">

 

<p style="font-size:large; font-weight:bold; text-align:center">CENSUS NOVAE ROMAE 2764 AUC</p>

 

<p style="font-size:large; font-weight:bold; text-align:center">CENSUS NOVAE ROMAE 2764 AUC</p>
---
Revision as of 21:12, 16 December 2014
NOVA ROMA
Dedicated to the restoration of classical Roman religion, culture and virtues
 Home| Latíné | Deutsch | Español | Français | Italiano | Magyar | Português | Română | Русский | English
Hodié a.d. V Kal. Nov. ‡ Q. Arrio (II) T. Domitio (III) cos. ‡ MMDCCLXXIII a.u.c. est. "F"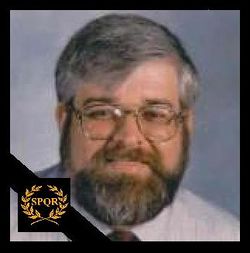 LUDI GALERII

PARTICIPATE IN THE GALERIAN GAMES IN MEMORY OF THE RECENTLY DECEASED TI. GALERIUS PAULINUS

Ti. Galerius Paulinus, censorial and consular senator of Nova Roma, has passed away currently holding the office of tribunus plebis and proconsul.

He lived 57 years.

He will live in our memories forever!