RO:Pagina principală
From NovaRoma
NOVA ROMA
Dedicata restaurarii religiei, virtutilor si culturii clasice romane
 Home| Latíné | Deutsch | Esperanto | Español | Français | Italiano | Magyar | Português | Română | Русский | English
Hodié prid. Non. Oct. ‡ M. Pompeio Sex. Lucilio cos. ‡ MMDCCLXVIII a.u.c. est. "G"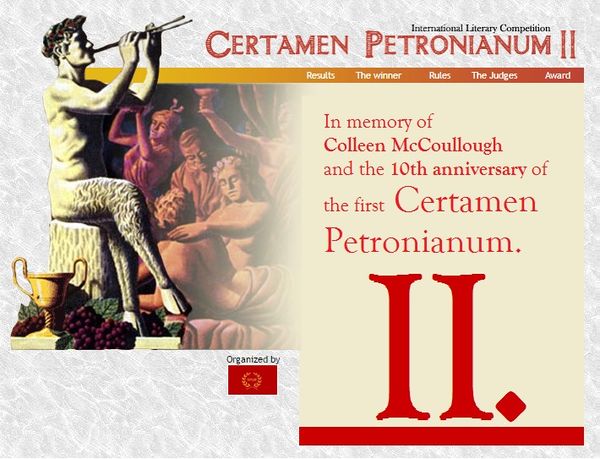 Click here and participate in the Certamen Petronianum II
and win accommodation in the Dea Diana B&B for a vacation in Rome, assortments of Roman spices, and valuable original Roman coins!

The Certamen Petronianum II is the Second Edition of the highest profile literary competition of Nova Roma, organized by aedilis plebis A. Iulius Paterculus. It is tradition in Nova Roma that the Certamen Petronianum is presided by renowned and notable jury members: this year our notable jury member is Jo Walton, international award-winner author, writer and poet, our fellow citizen under the name Ap. Tullia Hospes. The current Certamen Petronianum II celebrates the memory of the first Certamen Petronianum held exactly 10 years ago, when Nova Roma was honored by the presence of renowned jury members like world famous Roman themed novel series author Dr. Colleen McCullough and Roman history scholar and author Prof. Dr. Peter Wiseman, and it is dedicated to the memory of Colleen McCullough, who has passed away this year.
>>CLICK HERE<<
IN MEMORY OF COLLEEN McCULLOUGH AND THE 10th ANNIVERSARY OF THE FIRST CERTAMEN PETRONIANUM
FOTOGRAFIA ZILEI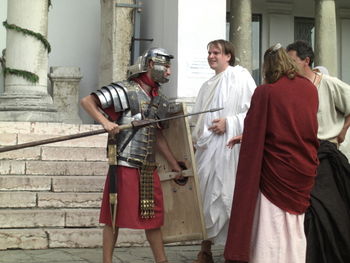 Good security at
XX Floralia Aquinci
. Performance of a Roman trial with
Cn. Lentulus
in the role of the defence, protecting the culprit (in black
toga
) with his body, when, after pronouncing the verdict, the guard is coming for him.
Daca aveti nevoie de ajutor contactati un magistrat.