IT:Pagina principale
From NovaRoma
NOVA ROMA
Dedicato al ripristino della religione, della cultura e delle virtù romane classiche
 Roma Resurgens | Latíné | Deutsch | Español | Français | Italiano | Magyar | Português | Română | Русский | English| Roma Resurgens  
Hodié a.d. IV Kal. Dec. ‡ Sex. Lucilio (II) A. Tullia (II) cos. ‡ MMDCCLXXV a.u.c. est. "D"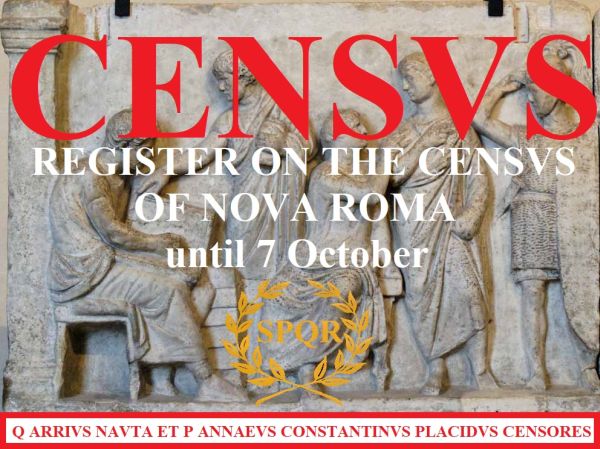 REGISTER HERE ON THE CENSUS OF NOVA ROMA
---
EVENTI IN CORSO
• Nova Roma is currently celebrating the Ludi Romani with online programs and live events in Aquincum (Budapest), Pannonia, in Tibur (Tivoli), Italia, in Carnuntum (Petronell), Germania, and in Elfia (Utrecht), Gallia provinces of Nova Roma. Live gladiatorial games, reenactment battles, cultural activities and festive ceremonies and sacrifices are being held at these events by praetor C. Barosus, aediles curules M. Cotta and A. Vitellius, tribuni plebis C. Petronius and Caecilia Sabina, and quaestor Cn. Lentulus pontifex, dux, legatus pro praetore and praefectus governor of these areas.
---
• The collegium pontificum is in session currently, convened by pontifex Cn. Lentulus
---
• Nova Roma has recently celebrated the Volturnalia and the Genius of the Roman People in the Restored Pignora Imperii, in Szombathely, Hungary, Pannonia Provincia of Nova Roma, at the Savaria Historical Carnival.
---
• Nova Roma celebrated the Nemoralia at the Carnuntum Late Antique Festival in our Provincia Germania.
---
• Nova Roma is incorporating the Canadian Roman Republic organization as its federate municipium.
---
The senate declared victory and enacted important decrees on triumphs and other awards during its last session.
---
Join the Nova Roman guest-friendship project.
Watch videos about Nova Roma on YouTube.
Take a look at some photos of recent Nova Roman events, including our International Convention in Rome.
---
---
LA FOTO DEL GIORNO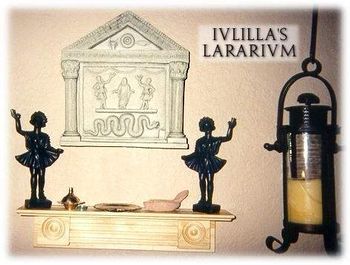 Un moderno
lararium
.
Le Site Web de Nova Roma
Cittadini novi romani! - Potete modificare questo sito!
Contatta
il
WikiMagisters
per ulteriori richieste.