IT:Pagina principale
From NovaRoma
NOVA ROMA
Dedicato al ripristino della religione, della cultura e delle virtù romane classiche
 Home| Latíné | Deutsch | Esperanto | Español | Français | Italiano | Magyar | Português | Română | Русский | English
Hodié a.d. XI Kal. Dec. ‡ St. Cornelia C. Aemilio cos. ‡ MMDCCLXVII a.u.c. est. "E"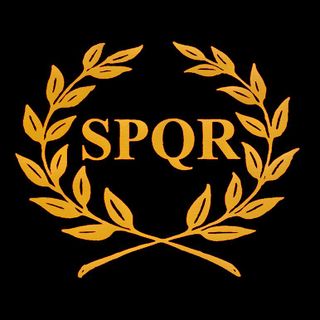 IN MEMORIAM TI. GALERI PAULINI
11th NOVEMBER: CENSORIAL FUNERAL OF TI. GALERIUS PAULINUS, FORMER CENSOR AND CONSUL OF NOVA ROMA
THE SENATE OF NOVA ROMA, REQUESTED BY THE COLLEGIUM PONTIFICUM, AWARDED THE RECENTLY DECEASED TI. GALERIUS PAULINUS A CENSORIAL STATE FUNERAL WHICH WAS HELD ON 11TH NOVEMBER. THE DAYS PRECEDING AND FOLLOWING HIS FUNERAL (10TH -12TH NOVEMBER) WERE DECLARED THREE DAYS OF OFFICIAL STATE MOURNING. IN HONOR OF TI. GALERIUS PAULINUS, THE SENATE ALSO ORDERED TO ISSUE NOVA ROMAN COINS IN HIS MEMORY AND TO HOLD THE LUDI GALERII, THE GALERIAN GAMES, WHICH WILL FOLLOW THE STATE MOURNING. THE OFFICIAL CENSORIAL STATE FUNERAL WAS CONDUCTED BY PONTIFEX CN. CORNELIUS LENTULUS.
READ THE REPORT ABOUT THE STATE FUNERAL OF TI. PAULINUS HELD ON 11TH NOVEMBER.
LA FOTO DEL GIORNO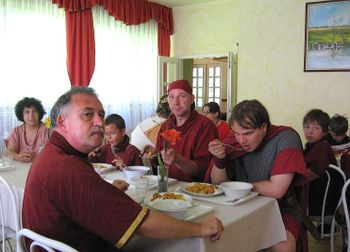 A tradition during the
ludi Apollinares
was to have lunch or dinner with open doors. Open door lunch of Nova Roman citizens for the
Ludi Apollinares
during the IV Nova Roman Reenactment Camp in
Pannonia
(Hungary), in 2761. From left to right Livia Plauta
tribuna plebis
, M. Metellus, Sp. Porcius and
Cn. Lentulus
as
centurio
around the table.
Le Site Web de Nova Roma
Cittadini novi romani! - Potete modificare questo sito!
Contatta
il
WikiMagisters
per ulteriori richieste.