IT:Pagina principale
From NovaRoma
NOVA ROMA
Dedicato al ripristino della religione, della cultura e delle virtù romane classiche
 Home| Latíné | Deutsch | Esperanto | Español | Français | Italiano | Magyar | Português | Română | Русский | English
Hodié a.d. VIII Id. Oct. ‡ M. Pompeio Sex. Lucilio cos. ‡ MMDCCLXVIII a.u.c. est. "A"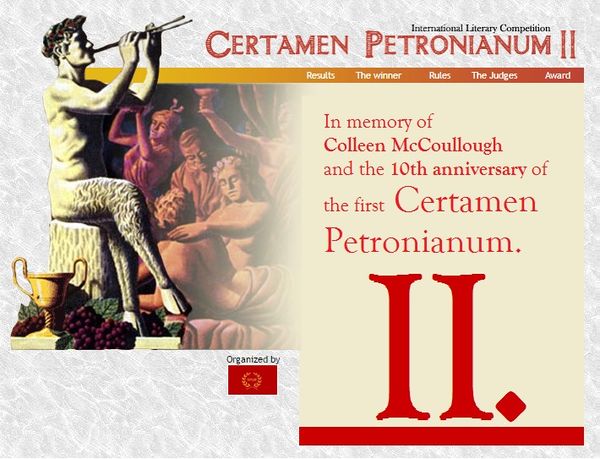 Click here and participate in the Certamen Petronianum II
and win accommodation in the Dea Diana B&B for a vacation in Rome, assortments of Roman spices, and valuable original Roman coins!

The Certamen Petronianum II is the Second Edition of the highest profile literary competition of Nova Roma, organized by aedilis plebis A. Iulius Paterculus. It is tradition in Nova Roma that the Certamen Petronianum is presided by renowned and notable jury members: this year our notable jury member is Jo Walton, international award-winner author, writer and poet, our fellow citizen under the name Ap. Tullia Hospes. The current Certamen Petronianum II celebrates the memory of the first Certamen Petronianum held exactly 10 years ago, when Nova Roma was honored by the presence of renowned jury members like world famous Roman themed novel series author Dr. Colleen McCullough and Roman history scholar and author Prof. Dr. Peter Wiseman, and it is dedicated to the memory of Colleen McCullough, who has passed away this year.
>>CLICK HERE<<
IN MEMORY OF COLLEEN McCULLOUGH AND THE 10th ANNIVERSARY OF THE FIRST CERTAMEN PETRONIANUM
LA FOTO DEL GIORNO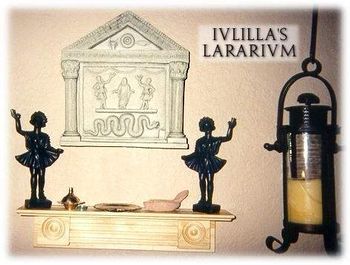 Un moderno
lararium
.
Le Site Web de Nova Roma
Cittadini novi romani! - Potete modificare questo sito!
Contatta
il
WikiMagisters
per ulteriori richieste.