Main Page
From NovaRoma
(Difference between revisions)
m

Line 9:
Line 9:
 

[[File:SPQR-BLACK.JPG|47px]][[File:SPQR-BLACK.JPG|47px]][[File:SPQR-BLACK.JPG|47px]][[File:SPQR-BLACK.JPG|47px]][[File:SPQR-BLACK.JPG|47px]][[File:SPQR-BLACK.JPG|47px]][[File:SPQR-BLACK.JPG|47px]][[File:SPQR-BLACK.JPG|47px]][[File:SPQR-BLACK.JPG|47px]][[File:SPQR-BLACK.JPG|47px]][[File:SPQR-BLACK.JPG|47px]][[File:SPQR-BLACK.JPG|47px]][[File:SPQR-BLACK.JPG|47px]][[File:SPQR-BLACK.JPG|47px]][[File:SPQR-BLACK.JPG|47px]][[File:SPQR-BLACK.JPG|47px]][[File:SPQR-BLACK.JPG|47px]][[File:SPQR-BLACK.JPG|47px]][[File:SPQR-BLACK.JPG|47px]][[File:SPQR-BLACK.JPG|47px]][[File:SPQR-BLACK.JPG|47px]][[File:SPQR-BLACK.JPG|47px]]

 

[[File:SPQR-BLACK.JPG|47px]][[File:SPQR-BLACK.JPG|47px]][[File:SPQR-BLACK.JPG|47px]][[File:SPQR-BLACK.JPG|47px]][[File:SPQR-BLACK.JPG|47px]][[File:SPQR-BLACK.JPG|47px]][[File:SPQR-BLACK.JPG|47px]][[File:SPQR-BLACK.JPG|47px]][[File:SPQR-BLACK.JPG|47px]][[File:SPQR-BLACK.JPG|47px]][[File:SPQR-BLACK.JPG|47px]][[File:SPQR-BLACK.JPG|47px]][[File:SPQR-BLACK.JPG|47px]][[File:SPQR-BLACK.JPG|47px]][[File:SPQR-BLACK.JPG|47px]][[File:SPQR-BLACK.JPG|47px]][[File:SPQR-BLACK.JPG|47px]][[File:SPQR-BLACK.JPG|47px]][[File:SPQR-BLACK.JPG|47px]][[File:SPQR-BLACK.JPG|47px]][[File:SPQR-BLACK.JPG|47px]][[File:SPQR-BLACK.JPG|47px]]

 

</p>

 

</p>

−

<p style="color:#000000; font-family:Times, Serif; font-weight:light; line-height:200%; text-align:center"><span style="font-size:280%; color:#000000"><br>[[In memory of Cn. Cornelius Lentulus Alexander|'''CN. CORNELIUS LENTULUS ALEXANDER''']]</span><span style="font-size:200%; color:#000000"><br>(Sándor Gonda),<br><br>'''Imperator, Pater Patriae, Censorial and Consular Senator of Nova Roma,<br>former Consul, Interrex and Rex Sacrorum of Nova Roma,<br>has passed away while holding the office of Censor and Proconsul.<br><br>He lived 93 years.'''<br><br>''He will live in our hearts forever!''</span></p>

+

<p style="color:#000000; font-family:Times, Serif; font-weight:light; line-height:200%; text-align:center"><span style="font-size:%; color:#000000"><br>[[In memory of Cn. Cornelius Lentulus Alexander|'''CN. CORNELIUS LENTULUS ALEXANDER''']]</span><span style="font-size:200%; color:#000000"><br>(Sándor Gonda),<br><br>'''Imperator, Pater Patriae, Censorial and Consular Senator of Nova Roma,<br>former Consul, Interrex and Rex Sacrorum of Nova Roma,<br>has passed away while holding the office of Censor and Proconsul.<br><br>He lived 93 years.'''<br><br>''He will live in our hearts forever!''</span></p>

 

</div>

 

</div>

 

<br><br>

 

<br><br>

−

{{PortalBox | title=Obituary and Commemorations: | content=

+

{{PortalBox | title=Obituary and Commemorations| content=<p style="font-family:Times, Serif"><span style="font-size:200%">'''Read [[In memory of Cn. Cornelius Lentulus Alexander|obituary and commemorations]] about Cn. Cornelius Lentulus Alexander''', and the account of his actions dedicated to the restoration of classical Roman culture and virtues:</span></p>

−

<p style="font-family:Times, Serif"><span style="font-size:200%">'''Read [[In memory of Cn. Cornelius Lentulus Alexander|obituary and commemorations]] about Cn. Cornelius Lentulus Alexander''', and the account of his actions dedicated to the restoration of classical Roman culture and virtues: </span></p>

+
 

<p style="font-family:Times, Serif; text-align:center; font-size:200%">'''[[In memory of Cn. Cornelius Lentulus Alexander]]'''

 

<p style="font-family:Times, Serif; text-align:center; font-size:200%">'''[[In memory of Cn. Cornelius Lentulus Alexander]]'''

 

<br>

 

<br>

Line 21:
Line 20:
 

}}

 

}}

 

<br><br>

 

<br><br>

−

<div style="clear:both">{{PortalBox | title=The Nova Roma Web Site | content=This site is an ongoing project of the [[citizen (Nova Roma)|citizens]] of Nova Roma to build a guide to our Republic and to that of ancient Rome. Any citizen can [[NovaRoma:create a wiki account|create an account]]. Join the mailing list [http://groups.yahoo.com/group/NRWiki NRWiki @ yahoogroups.com] to ask questions or propose projects. '''Visit our [[NovaRoma:Community Portal|Community Portal]] for [[NovaRoma:Help files|editing guidelines and tutorials]]''' and to learn about current projects. Learn how to '''[[NovaRoma:Submit_Citizen_Photo|upload your profile picture]]''', '''[[NovaRoma:password|recover your password]]''' or [[NovaRoma:Admin Requests|contact the site administrators]] if you have any requests.

+

<div style="clear:both">{{PortalBox | title=The Nova Roma Web Site | content=This site is an ongoing project of the [[citizen (Nova Roma)|citizens]] of Nova Roma to build a guide to our Republic and to that of ancient Rome. Any citizen can [[NovaRoma:create a wiki account|create an account]]. Join the [://groups.//] to ask questions or propose projects. '''Visit our [[NovaRoma:Community Portal|Community Portal]] for [[NovaRoma:Help files|editing guidelines and tutorials]]''' and to learn about current projects. Learn how to '''[[NovaRoma:Submit_Citizen_Photo|upload your profile picture]]''', '''[[NovaRoma:password|recover your password]]''' or [[NovaRoma:Admin Requests|contact the site administrators]] if you have any requests.

 

{{Template:PortalsTemporary}}

 

{{Template:PortalsTemporary}}

 

}}

 

}}
---
Revision as of 15:36, 6 July 2021
---
NOVA ROMA
Dedicated to the restoration of classical Roman religion, culture and virtues
 Roma Resurgens | Latíné | Deutsch | Español | Français | Italiano | Magyar | Português | Română | Русский | English| Roma Resurgens  
Hodié a.d. XIII Kal. Oct. ‡ Q. Arrio (III) A. Tullia cos. ‡ MMDCCLXXIV a.u.c. est. "E"
---
IN MEMORIAM CN. CORNELI LENTULI ALEXANDRI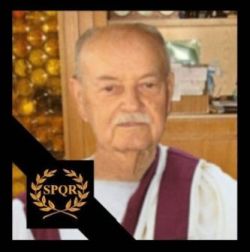 DIS MANIBUS
CN. CORNELII LENTULI ALEXANDRI IMPERATORIS
PATRIS PATRIAE
CENSORIS ET PROCONSULIS
QUI VIXIT ANNORUM XCIII.

STATE MOURNING
FOR
CN. CORNELIUS LENTULUS ALEXANDER
(Sándor Gonda),

Imperator, Pater Patriae, Censorial and Consular Senator of Nova Roma,
former Consul, Interrex and Rex Sacrorum of Nova Roma,
has passed away while holding the office of Censor and Proconsul.

He lived 93 years.

He will live in our hearts forever!
Obituary and Commemorations
Read the obituary and commemorations about Cn. Cornelius Lentulus Alexander, and the account of his actions dedicated to the restoration of classical Roman culture and virtues:
In memory of Cn. Cornelius Lentulus Alexander

---
The Nova Roma Web Site In State Mourning