DE:Hauptseite
From NovaRoma
---
NOVA ROMA
Die Rekonstruktion der klassischen römischen Religion, Kultur und Tugenden
 Home| Latíné | Deutsch | Español | Français | Italiano | Magyar | Português | Română | Русский | English
Hodié a.d. XIII Kal. Nov. ‡ Q. Arrio (II) T. Domitio (III) cos. ‡ MMDCCLXXIII a.u.c. est. "F"
---
---
AKTUELLE TERMINE
• The censor Cn. Cornelius Lentulus Alexander, proconsul, pater patriae died on a.d. XVI Kal. Quin. ‡. His Roman funeral will be arranged later with due pomp.
---
• The senate is in session since the Kalends of March.
---
• Aediles M. Aurelius Cotta Iovius and P. Annaeus Constantinus Placidus have conducted the LUDI ROMANI with a real Epulum Iovis ceremony
---
Das "Xenia Nova Romana" Project.
Watch videos about Nova Roma on YouTube
Watch amazing photos of Nova Roman wedding ceremonies, a consecration of an augur, and an inauguration of a templum
---
---
BILD DES TAGES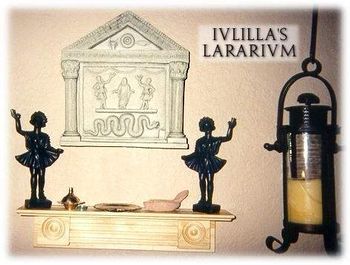 A modern
lararium
Die Nova Roma Wiki Website