DE:Hauptseite
From NovaRoma
NOVA ROMA
Die Rekonstruktion der klassischen römischen Religion, Kultur und Tugenden
 Home| Latíné | Deutsch | Español | Français | Italiano | Magyar | Português | Română | Русский | English
Hodié a.d. IX Kal. Nov. ‡ Q. Arrio P. Annaeo cos. ‡ MMDCCLXXII a.u.c. est. "H"
AKTUELLE TERMINE

DIS MANIBVS
L. CORNELIO SVLLAE FELICI
CENSORI III : CONSVLI III : PRAETORI : QVAESTORI : CVRATORI AERARII
SIT TIBI TERRA LEVIS
---
---
• The next event of Nova Roma is in Provincia Thracia, organized by A. Vitellius Celsus, legatus pro praetore, the Festival of "Сердика е моят Рим" ("Serdica is my Rome"): 21-22 September.
---
• Taxes are now overdue if you have not paid! - Ask about it in our Facebook group or in our mailing lists.
---
Das "Xenia Nova Romana" Project.
Watch videos about Nova Roma on YouTube
Watch amazing photos of Nova Roman wedding ceremonies, a consecration of an augur, and an inauguration of a templum
---
---
BILD DES TAGES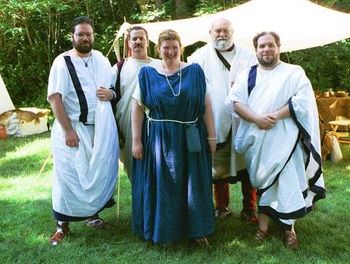 Five senators of Nova Roma at
Roman Days
MMDCCLV
.
Die Nova Roma Wiki Website