DE:Hauptseite
From NovaRoma
---
NOVA ROMA
Die Rekonstruktion der klassischen römischen Religion, Kultur und Tugenden
 Home| Latíné | Deutsch | Español | Français | Italiano | Magyar | Português | Română | Русский | English
Hodié a.d. XIII Kal. Nov. ‡ Q. Arrio (II) T. Domitio (III) cos. ‡ MMDCCLXXIII a.u.c. est. "F"
---
---
AKTUELLE TERMINE
• The censor Cn. Cornelius Lentulus Alexander, proconsul, pater patriae died on a.d. XVI Kal. Quin. ‡. His Roman funeral will be arranged later with due pomp.
---
• The senate is in session since the Kalends of March.
---
• Aediles M. Aurelius Cotta Iovius and P. Annaeus Constantinus Placidus have conducted the LUDI ROMANI with a real Epulum Iovis ceremony
---
Das "Xenia Nova Romana" Project.
Watch videos about Nova Roma on YouTube
Watch amazing photos of Nova Roman wedding ceremonies, a consecration of an augur, and an inauguration of a templum
---
---
BILD DES TAGES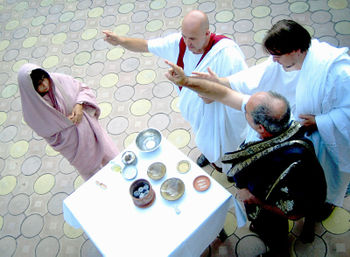 Livia Plauta
tribuna plebis,
T. Iulius
consul,
Cn. Lentulus
quaestor and
M. Moravius
consul, flamen, pontifex and augur sacrifice to Hercules for the 10th Anniversary of Nova Roma in 2008, during the
VI Conventus Novae Romae
.
Die Nova Roma Wiki Website