Main Page
From NovaRoma


NOVA ROMA


Dedicated to the restoration of classical Roman religion, culture and virtues
 Home| Latíné | Deutsch | Esperanto | Español | Français | Italiano | Magyar | Português | Română | Русский | English
Hodié a.d. IV Id. Dec. ‡ L. Sulla (III) cos. sine collega ‡ MMDCCLXVI a.u.c. est. "H"
CELEBRATING THE XVth ANNIVERSARY OF THE FOUNDING OF NOVA ROMA
CURRENT EVENTS
---
• It is election season. You can review the candidates for the various offices on the Election MMDCCLXVI page.
---
• The Senate is now in session. The dates for this session are November 25th - December 13th 2013.
---
Aquila Nova Roma - The Eagle has returned! The Official Newsletter of Nova Roma is now a blog and will feature new articles along with some interesting previously published articles.
---
March 1 - 15 - Nova Roma celebrated the 15th Anniversary of its founding, the Birthday of Nova Roma, with the ludi Novi Romani. Find more details, programs and the list of winners here
---
Join the Nova Roman guest-friendship project.
Watch videos about Nova Roma on YouTube
Watch amazing photos of Nova Roman wedding ceremonies, a consecration of an augur, and an inauguration of a templum
---
Support Nova Roma
---
---
DAILY PHOTO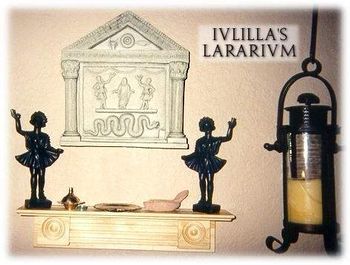 A modern
lararium