EO:Ĉefpaĝo
From NovaRoma

NOVA ROMA


Dediĉata por restarigi religion klasikan Roman, kulturon, kaj virton
 Home| Latíné | Deutsch | Esperanto | Español | Français | Italiano | Magyar | Português | Română | Русский | English
Hodié a.d. X Kal. Nov. ‡ St. Cornelia C. Aemilio cos. ‡ MMDCCLXVII a.u.c. est. "H"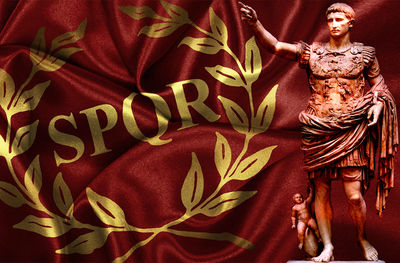 LUDI AUGUSTALES BIMILLENARII
CELEBRATING THE 2000th ANNIVERSARY OF THE DEATH AND DEIFICATION OF AUGUSTUS
FOTOGRAFI DE LA TAGO
Error creating thumbnail: convert: unable to open image `/home/public/webhost/www.novaroma.org/http/vici/images/thumb/Group_ritual.jpg/350px-Group_ritual.jpg': @ error/blob.c/OpenBlob/2489.

Cn. Lentulus
instructs the
consules
M. Piscinus and T. Sabinus before the sacrifice to Hercules for the 10th Anniversary of Nova Roma in 2008, during the
VI Conventus Novae Romae
.