MMDCCLXV
From NovaRoma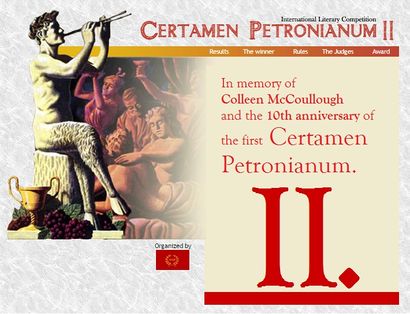 The Certamen Petronianum II is the highest profile literary competition of Nova Roma, organized by the aedilis plebis A. Iulius Paterculus, with renowned international award-winning author, writer and poet Jo Walton as the chair of the contest Jury. Our previous Certamen Petronianum was presided by famous Roman novel author Dr. Colleen McCullough and Roman history scholar and author Prof. Dr. Peter Wiseman. Our current edition honors the memory of our previous jury member Colleen McCullough who deceased this year.
Participate in the competition and win accommodation near the eternal city, Rome, in the Dea Diana B&B, assortments of Roman spices and valuable original Roman coins!
For more information, visit the Certamen Petronianum II Webpage
---
 Home| Latíné | Deutsch | Esperanto | Español | Français | Italiano | Magyar | Português | Română | Русский | English
Cn. Caesare C. Tullio cos. ‡ MMDCCLXV a.u.c.
Vigintisexviri
Budget
Offices of Magistrates
Provincial Governors
Note :
For details on the VACANT provinces, contact the consuls.
Except for Italia, each province is called "provincia" (province). Italia is called "praefectura".
Governors are called "legatus pro praetore", "praetor" or "consul", "propraetor" or "proconsul", except the governor of Italia who is always called "praefectus".

For the calendar for this year, see Fasti MMDCCLXV.
Res Gestae
Ianuarius
Februarius
Martius
Aprilis
Maius
Junius
Quinctilis
Sextilis
December